Mel is coming 3 year old (turns 3 in May) and has grown about hand since I brought her home in Dec 2010. She is just shy of 15hs and still is growing (but high get again and puggy....means another growth for her). I have been working with her......we did a alot in the fall all the way to backing her and wow isn't her trot smooth, she lifts her frontend. I felt and saw it in the in hand work, which I hoped it would be like that in the saddle and was pleased to see it. Her walk is very ground covering and she steps well up and under herself. Only thing that isn't there yet would be the canter it is unbalanced still on the lunge line
I am hoping it is the downhill build that she has right now. So, I can her most of the winter off to grow and mature. We left a on good note which was 2 pony rides with my BF leading us around and her responding like pro. I just took her out last weekend and she has still has that walk/trot, but the canter still is a little rough. She is about 1-2" higher in the back than front again.
Here is a picture of her back from early last spring (march/april)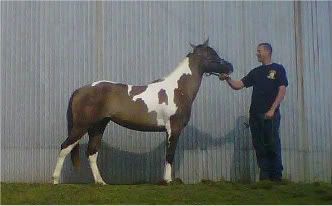 I haven't had the chance to get another shot of her since then. We plan on doing some hunter halter classes this summer (with my in-hand twist). She will be sent for training in May/June and I hope to do a schooling show in Sept or Oct with her.
Edited by marie02, 22 February 2012 - 10:35 PM.