I know that I have put several pictures on here of Bar K Wrangler Camp in the past, but we usually end up going here at least a couple of times a year. It is one of our favorite "close to home" areas to camp and ride. It only takes us about 1 1/2 hrs to drive here. We spent this past Fri, Sat, and Sun riding in this area located near Chadwick, MO in SW MO. The trails are in the Mark Twain Forest and located in the Swan Creek Conservation area. Our friends, Dave and Pris went with us.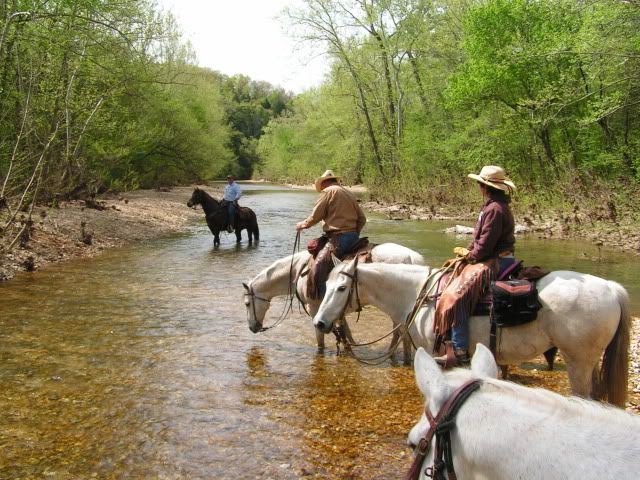 We took out granddaughter Jazmin, and her friend Trinity. They giggled for 3 straight days, almost non-stop.
I told the girls not to get in water above their boots. How long do you think that lasted?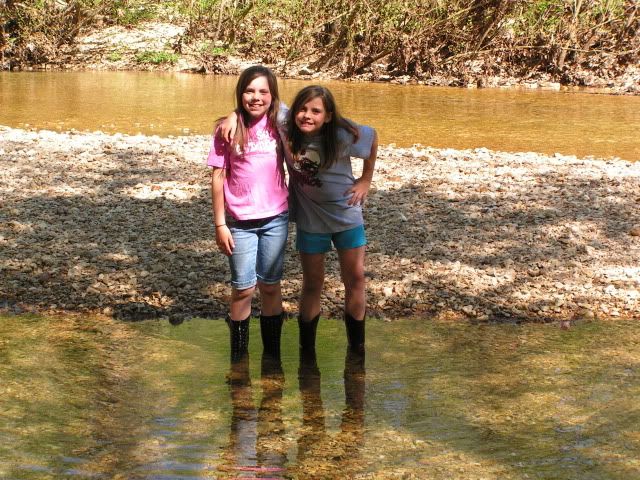 It sprinkled on and off Sat during our ride, but the rain didn't amount to very much. The dogwoods were still blooming, but by next weekend, the flowers will probably be gone.
It rained harder on Sat, shortly after we got back to camp. We timed it just about right. I took this picture when the horses were still getting along with each other. Shortly after this, 2 of the geldings got into a rearing and kicking match (even with hobbles on), so they had to be separated. Good grief! They ended up with a couple of mild scratches, but nothing major.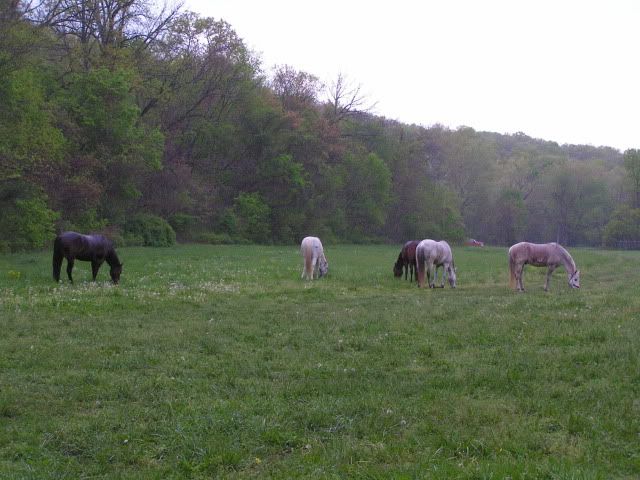 The girls "set up camp" in the back of the trailer, staying dry. A little horse poop didn't bother them at all. I read somewhere recently that it is good for our kids to get dirty and actually increases their resistance to disease. These girls got filthy every day, so their immunities should be good for awhile.
We had great weather on both Fri and Sun. Sat was a little wet, but wasn't bad. Over all, it was a great weekend of riding and camping.