As some of you may have seen on here, we lost my 2 year old filly Karma on November 4th to a pipe fence accident while at the trainers. I wasn't sure about how much time to take to mourn her passing and what was acceptable for wanting to start moving on and looking for a new one. Just started looking around online like I have always done (even when not in the market) to make myself feel better window shopping.
Came across this 3 year old filly that looked similar to the one we lost. I know... people said not to look for similar bloodlines, build or appearances, but I couldn't help but be drawn to this horse. I showed her ad to my husband thinking he would be the voice of reason telling me to hold off. He said he supported me with whatever I thought. I figured I would regret not at least checking on her, so I inquired about additional information, photos, etc. Long story short, we made plans to go look at her this past Saturday.
I was kinda disappointed in how small she was even though the seller told me a few times she was small. She's just pushing 14.1 but really looked smaller. Needs more weight. They pulled her out of the pasture, saddled her on the side of the road and the guy's daughter got on and rode her around. Then the guy selling her rode her around showing some of her buttons. I got on and was really pretty impressed with how responsive she was. Finally my husband tried her out and he really liked her. We went ahead and loaded her up and hauled her home.
Our horses were all excited about a new pasture mate. One of them was always on the other side of her pen keeping her company that first night. Sunday we decided to try her out a little at home just to see how she was in a new place. It was super windy and she was a champ. She definitely impressed me. Sunday night our farrier came out as a favor to pull off her shoes for a long over due trim. Have her scheduled again in a few weeks to gradually get them where they should be.
So anyway, what's a new horse without some pictures... Here are a few from when she first was unloaded: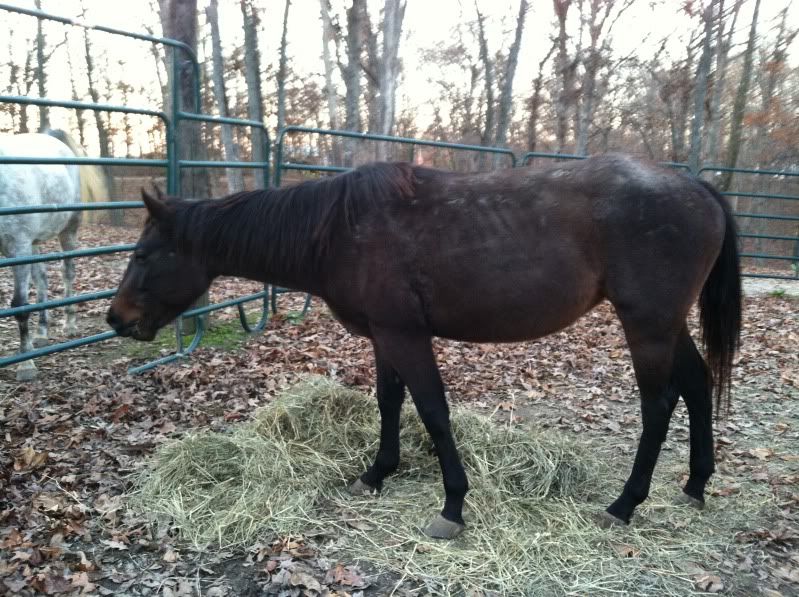 And a few from riding her Sunday